Butterflies are a very common symbol of life, beauty, and grace. Because of this, seeing them usually sparks such great feelings and positivity, making them a favorite animal among many. You can commonly see imagery of butterflies in houses, in literature, and tattooed on skin.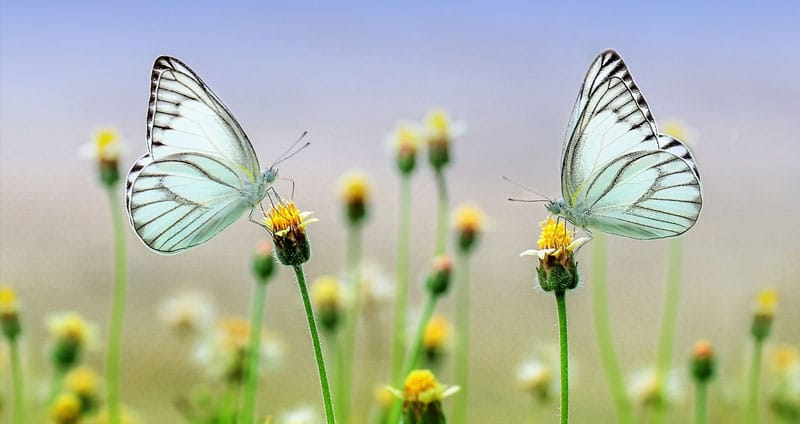 Because of this prominence in our culture, it makes sense that many peopl​e would transform their admiration for butterflies into quote form. Below are 101 of our favorite butterfly quotes, both silly and serious, written by prominent figures and anonymous poets.
These quotes can be used for inspirational Instagram captions, sent to loved ones for a bit of inspiration, or just read and appreciated for what they are!
1​"I almost wish we were butterflies and liv'd but three summer days – three such days with you I could fill with more delight than fifty common years could ever contain." – ​John Keats
2​​"I embrace emerging experience. I participate in discovery. I am a butterfly. I am not a butterfly collector. I want the experience of a butterfly." – ​William Stafford
3​"They seemed to suddenly come upon happiness as if they had surprised a butterfly in a winter wood." – ​Edith Wharton
4​"The butterfly counts not months but moments, and has time enough." – ​Rabindranath Tagore
5​​"When the spirit of nature touches us, our hearts turn into a butterfly!" – ​Mehmet Murat Ildan
6​"Nature's message was always there and for us to see. It was written on the wings of butterflies." – ​Kjell B. Sandved
7​"Butterflies… flowers that fly and all but sing." -​ Robert Frost
8​"Happiness is a butterfly, which when pursued, is always just beyond your grasp, but which, if you will sit down quietly, may alight upon you." – ​Nathaniel Hawthorne
9"'Just living is not enough', said the butterfly, 'one must have sunshine, freedom and a little flower.'" – ​Hans Christian Andersen
10"A caterpillar, after its deep slumber, 'wakes up to reality' to realize, that truth is not always bitter after all!" – Manali Oak​​
11"'How does one become a butterfly?' she asked pensively. 'You must want to fly so much that you are willing to give up being a caterpillar.'" – ​Trina Paulus
12​"Everyone is like a butterfly, they start out ugly and awkward and then morph into beautiful graceful butterflies that everyone loves." – ​Drew Barrymore
13​"I dreamed I was a butterfly, flitting around in the sky; then I awoke. Now I wonder: Am I a man who dreamt of being a butterfly, or am I a butterfly dreaming that I am a man?" – ​Chuang Tzu
14​"Love is like a butterfly, beautiful and delicate… If you truly care for it, you'll do whatever you can to make it happy, even if that means letting it go." – ​Scott Pemberton
15​"​There is nothing in a caterpillar that tells you it's going to be a butterfly." – ​R. Buckminster Fuller
16​​"I only ask to be free. The butterflies are free." – Charles Dickens
17​"It has been said that something as small as the flutter of a butterfly's wing can ultimately cause a typhoon halfway around the world." – Unknown
18​"Butterflies are a breath of beauty fluttering by, they are mystery chronicled upon wing, they bring forth the grace and wonder of this world to our eyes everyday." – ​K. D'Angelo
19​"As with the butterfly, adversity is necessary to build character in people." – ​Joseph B. Wirthlin
20​​"Like a butterfly stuck in a chrysalis, waiting for the perfect moment, I was waiting for the day I could burst forth and fly away and find my home." – ​Emme Rollins
21​"The butterfly flits from bloom to bloom, as not to miss one fragrant plume. In her sight exists no garden finale, only paradise of flowered hill and valley." – ​K. D'Angelo
22​"What the caterpillar calls the end of the world, the master calls a butterfly." – ​Richard Bach
23​"​When I was a girl I would look out my bedroom window at the caterpillars; I envied them so much. No matter what they were before, no matter what happened to them, they could just hide away and turn into these beautiful creatures that could fly away completely untouched." – ​Patch Adams
24​"Awaken to the universes simple gift of the butterfly. Watch with fascination and joy as a jeweled treasure glides by and gently touches your soul." – ​K. D'Angelo
25​"I dreamed I was a butterfly, flitting around in the sky; then I awoke. Now I wonder: Am I a man who dreamt of being a butterfly, or am I a butterfly dreaming that I am a man?" – ​Zhuangzi
26​"He said that we belonged together because he was born with a flower and I was born with a butterfly and that flowers and butterflies need each other for survival." – ​Gemma Malley
27​"Much converse do I find in thee, Historian of my infancy! Float near me; do not yet depart! Dead times revive in thee: Thou bring'st, gay creature as thou art! A solemn image to my heart." – William Wordsworth
28​"Metamorphosis has always been the greatest symbol of change for poets and artists. Imagine that you could be a caterpillar one moment and a butterfly the next." – ​Louie Schwartzberg
29​"Well, I must endure the presence of a few caterpillars if I wish to become acquainted with the butterflies." – ​Antoine de Saint-Exupéry
30​"I'd be a butterfly, born in a bower, where roses and lilies and violets meet." – Thomas Haynes Bayly
31"When a small child, I thought that success spelled happiness. I was wrong, happiness is like a butterfly which appears and delights us for one brief moment, but soon flits away." – Anna Pavlova
32​"We delight in the beauty of the butterfly, but rarely admit the changes it has gone through to achieve that beauty." – Maya Angelou
33"Not quite birds, as they were not quite flowers, mysterious and fascinating as are all indeterminate creatures." – Elizabeth Goudge
34"Is it sin, which makes the worm a chrysalis, and the chrysalis a butterfly, and the butterfly dust?" – Max Muller
35​"We are like butterflies who flutter for a day and think it is forever." – Carl Sagan 
36"The butterfly is a flying flower, the flower a tethered butterfly." – Ponce Denis Ecouchard Lebrun
37"Love is like a butterfly: It goes where it pleases and pleases where it goes." – Unknown
38"This magnificent butterfly finds a little heap of dirt and sits still on it; but man will never on his heap of mud keep still…" – Joseph Conrad
39"Beautiful and graceful, varied and enchanting, small but approachable, butterflies lead you to the sunny side of life, and everyone deserves a little sunshine." – Jeffrey Glassberg
40"The caterpillar does all the work but the butterfly gets all the publicity." – George Carlin
41"Happiness is like a butterfly: the more you chase it, the more it will elude you, but if you turn your attention to other things, it will come and sit softly on your shoulder." – Henry David Thoreau
42"The butterflies… What an educated sense of beauty they have. They seem only an ornament to society, and yet, if they were gone, how substantial would be their loss." – Phil Robinson
43"Just like the butterfly, I too will awaken in my own time." – Deborah Chaskin
44"For a new year to bring you something new, make a move, like a butterfly tearing its cocoon! Make a move!" – Mehmet Murat Ildan
45"Float like a butterfly, sting like a bee." – Muhammad Ali
46"Cut a chrysalis open, and you will find a rotting caterpillar. What you will never find is that mythical creature, half caterpillar, half butterfly, a fit emblem for the human soul, for those whose cast of minds leads them to seek such emblems. No, the process of transformation consists almost entirely of decay." – Pat Barker
47​"Don't chase the butterfly. Mend your garden, and let the butterfly come." – Unknown
48"My body has become a sanctuary for the butterflies you give me." – R.M. Broderick
49"Fighting has taught me that the caterpillar takes a while to turn into a majestic butterfly." – Jesse Taylor
50​"If you smile when you see a butterfly, you have happiness in your soul." – Diana Cooper 
51"For our people, butterflies are a symbol of hope. It's said that if you capture one in your hands and whisper your dreams to it, it will carry them up to the heavens so that the wish can be granted." – Sherrilyn Kenyon
52"Butterflies can't see their wings. They can't see how truly beautiful they are, but everyone else can. People are like that as well." – Sharifah Norhamidah
53"Once you let people know anything about what you think, that's it, you're dead. Then they'll be jumping about in your mind, taking things out, holding them up to the light and killing them, yes, killing them, because thoughts are supposed to stay and grow in quiet, dark places, like butterflies in cocoons." – Helen Oyeyemi
54"Although trapped in a cocoon, I told myself, "No cocooning now; it's time to get out into the open. And I broke out of my small world to enter into the bigger one… phew… I found, the world's a bigger cocoon." – Manali Oak
55"To all the broken-hearted and anyone feeling sad, may your hearts heal and may you feel happy in your lives.Flutter as the butterflies do." – Krystal
56"A butterfly says, "The caterpillar-me is history, my metamorphosis, a mystery, and today… today is a present, my struggle gifted me." – Manali Oak
57"We lose our souls if we lose the experience of the forest, the butterflies, the song of the birds, if we can't see the stars at night." – Thomas Berry
58"When, within our souls and psyches we are made aware of a safe but insistent drum beat, repeated like butterfly wings in motion, we sense the message…that our inner self has begun its search for freedom." – Mary Meeker
59"We crush the caterpillars then complain there are no butterflies." – Unknown
60"A butterfly symbolized acceptance of each new phase in life. To keep faith as everything around you changed." – Lisa Kleypas
61"A caterpillar who seeks to know himself would never become a butterfly." – Andre Gide
62​"Love is like a butterfly, a rare and gentle thing." – Dolly Parton
63"Teaching a child not to step on a caterpillar is as valuable to the child as it is to the caterpillar." – Bradley Millar
64"Do ye not comprehend that we are worms born to bring forth the angelic butterfly that flieth unto judgment without screen?" – Dante Alighieri
65​"The butterfly said to the sun, 'They can't stop talking about my transformation. I can only do it once in my lifetime. If only they knew, they can do it at any time and in countless ways.'" – Dodinsky
66"Go on, hitch a ride on the back of a butterfly. There's no better way to fly." – Patrick Monahan
67"When you find yourself cocooned in isolation and despair and cannot find your way out of the darkness, remember that this is similar to the place where caterpillars go to grow their wings." – Unknown
68"I'd be a butterfly; living a rover, Dying when fair things are fading away." – Thomas Haynes Bayly
69"Someday, I will be a beautiful butterfly, and then everything will be better." – 'A Bug's Life'
70"We must remain as close to the flowers, the grass, and the butterflies as the child is who is not yet so much taller than they are. We adults, on the other hand, have outgrown them and have to lower ourselves to stoop down to them. It seems to me that the grass hates us when we confess our love for it. Whoever would partake of all good things must understand how to be small at times." – Friedrich Nietzsche
71"What would a butterfly quote, on looking in the mirror? It would say, 'the adventure was worth it!'" – Manali Oak
72"One can never consent to creep when one feels an impulse to soar." – Helen Keller
73"You've gotta be a caterpillar before you are a butterfly. Problem is, most people aren't willing to be a caterpillar." – Unknown
74"Do you remember how you felt at seventeen? I do and I don't (…) Imagine you came from outer space and someone showed you a butterfly and a caterpillar. Would you ever put the two of them together? That's me and my memories." – Douglas Coupland
75"A butterfly lights beside us like a sunbeam, and for a brief moment, its glory and beauty belong to our world… but then it flies again, and though we wish it could have stayed… we feel lucky to have seen it." – Unknown
76"Bees sip honey from flowers and hum their thanks when they leave. The gaudy butterfly is sure that the flowers owe thanks to him." – Rabindranath Tagore
77​"If there is one creature that represents my essence, it's butterflies." – Patricia Velasquez
78"And when all the wars are over, a butterfly will still be beautiful." – Ruskin Bond
79"The great loneliness- like the loneliness a caterpillar endures when she wraps herself in a silky shroud and begins the long transformation from chrysalis to butterfly. It seems we too must go through such a time, when life as we have known it is over- when being a caterpillar feels somehow false and yet we don't know who we are supposed to become. All we know is that something bigger is calling us to change. And though we must make the journey alone, and even if suffering is our only companion, soon enough we will become a butterfly, soon enough we will taste the rapture of being alive." – Elizabeth Lesser
80​"If nothing ever changed, there would be no such things as butterflies." – Wendy Mass 
81"I've always loved butterflies, because they remind us that it's never too late to transform ourselves." – Drew Barrymore
82"A caterpillar, after its deep slumber, 'wakes up to reality' to realize, that truth is not always bitter after all!" – Manali Oak
83"And when I was angry, when I was younger, I was in a cocoon. Now I'm a beautiful, black butterfly." – Tracy Morgan
84"Death consists, indeed, in a repeated process of unrobing, or unsheathing. The immortal part of man shakes off from itself, one after the other, its outer casings, and – as the snake from its skin, the butterfly from its chrysalis – emerges from one after another, passing into a higher state of consciousness." – Annie Besant
85"I saw a poet chase a butterfly in a meadow. He put his net on a bench where a boy sat reading a book. It's a misfortune that it is usually the other way round." – Karl Kraus
86"It is necessary to write, if the days are not to slip emptily by. How else, indeed, to clap the net over the butterfly of the moment? For the moment passes, it is forgotten; the mood is gone; life itself is gone. That is where the writer scores over his fellows: he catches the changes of his mind on the hop." – Vita Sackville-West
87"Nerves and butterflies are fine – they're a physical sign that you're mentally ready and eager. You have to get the butterflies to fly in formation, that's the trick." – Steve Bull
88"We are closer to the ants than to butterflies. Very few people can endure much leisure." – Gerald Brenan
89"Where have those flowers and butterflies all goneThat science may have staked the future on?He seems to say the reason why so muchShould come to nothing must be fairly faced." – Robert Frost
90"In nature a repulsive caterpillar turns into a lovely butterfly. But with humans it is the other way around: a lovely butterfly turns into a repulsive caterpillar." – Anton Chekhov
91"Know thyself! A maxim as pernicious as it is ugly. Whoever observes himself arrests his own development. A caterpillar who wanted to know itself well would never become a butterfly." – Andre Gide
92​"Not quite birds, as they were not quite flowers, mysterious and fascinating as are all indeterminate creatures." – Elizabeth Goudge
93"And what's a butterfly? At best,He's but a caterpillar, at rest." – John Grey
94"Proverbs are like butterflies; some are caught and some fly away." – German proverb
95​"I am One but a billion other beautiful fluttering butterflies, each as lovely as the last or the next, each erasing the image of the prior from a man's mind's eye." – Ellis Dee
96"In my world, everyone's a pony and they all eat rainbows and poop butterflies!" – Dr. Seuss
97"He said that we belonged together because he was born with a flower and I was born with a butterfly and that flowers and butterflies need each other for survival." – Gemma Malley
98"Men pass in front of our eyes like butterflies, creatures of a brief season. We love them; they are brave, proud, beautiful, clever; and they die almost at once. They die so soon that our hearts are continually racked with pain." – Phillip Pullman​​
99"I love that feeling of being in love, the effect of having butterflies when you wake up in the morning. That is special." – Jennifer Aniston
100"We are but small butterflies in the garden of life." – Carston D. Roach
101"You can only chase a butterfly for so long." – Jane Yolen
Did you personally relate to any of these butterfly quotes? Which of these quotes was your favorite? Do you have any butterfly quotes that you'd like to share? Share with us and the other readers down in the comments below!